4 Feb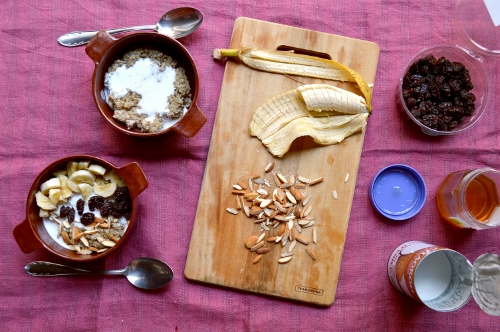 My parents are here visiting me in Buenos Aires, so it's been a whirlwind taking them around to all the best sights and restaurants (and it's also the reason why I didn't post on Friday – whoops!). They get breakfast at their hotel though, so I'm on my own for fixing breakfast. Something quick and easy but healthy and filling is important to have enough energy to get me through until lunch with all the sight-seeing, and this coconut breakfast quinoa has been a great option. Coconut milk adds richness to the quinoa, which is similar to oatmeal in this preparation (not that I've given up on my favorite steel-cut oats), but with the added boost of quinoa's higher fiber and protein – even more so if you include the optional chia seeds. This can be served warm or cold and can be adapted endlessly with your favorite fruits and nuts, and you can also use a different spice in place of cinnamon, if you'd like, or omit it altogether. Although it's geared towards being a breakfast (and will give you a great start to your day), this would even make a delicious, healthy (vegan and gluten-free) dessert.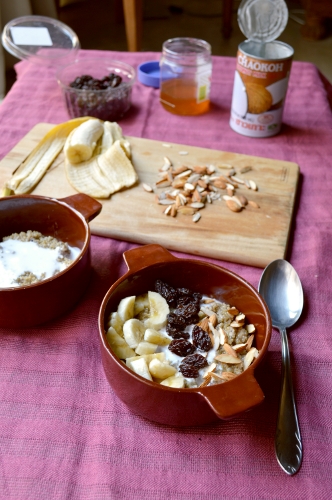 Coconut Breakfast Quinoa (adapted from Food 52)
Yield: 4 servings
Ingredients:
1 cup quinoa, rinsed well

1 cup coconut milk

1 cup water

1/2 tsp cinnamon

1/4 tsp salt

1 Tbsp chia seeds

(optional)

honey, to taste

*

toppings of choice

**
*Agave syrup, maple syrup, or brown sugar will also work.
**I recommend a mix of fresh fruit, dried fruit, and nuts – pictured is banana, raisins, and slivered almonds.
Method:

In a medium pot, combine 1 cup quinoa, rinsed well with 1 cup coconut milk, 1 cup water, 1/2 tsp cinnamon, and 1/4 tsp salt, then bring to a boil.
Lower heat, and let simmer, covered, until the quinoa has absorbed all the liquid, about 15 – 20 minutes.
Turn off heat, stir in 1 Tbsp chia seeds, if using, then let sit, covered, for 5 more minutes.
Fluff with a fork, then distribute between four bowls. Stir in honey, to taste, and top with extra coconut milk and toppings of choice.
Related Posts: