22 Oct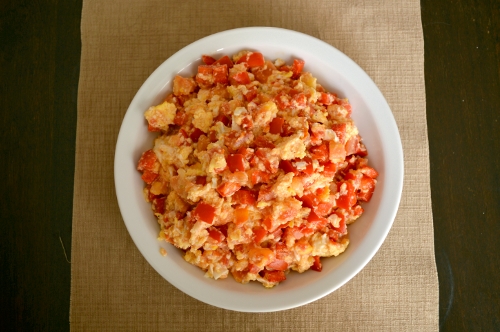 I love when combining basic ingredients in a simple way results in something fantastic, and that's just what happens here with these tomato and bell pepper eggs. The ingredient list is short, and the recipe only takes about 15 minutes to throw together, so it's great for a quick breakfast. But it feels much more sophisticated than plain ol' scrambled eggs and looks much more exciting and colorful, too. And the tomato and bell pepper also add some healthiness – can't go wrong with that! This is also an easily adaptable recipe (only a few steps away from Turkish menemen or North African shakshouka) – toss in a jalapeno or other hot pepper with the bell pepper if you like it spicy, add your favorite spices or herbs, or use soy sauce instead of salt and pepper for an Asian twist.

Tomato and Bell Pepper Eggs
Yield: 2 – 4 servings
Ingredients:
1 Tbsp coconut oil

*

1 bell pepper, diced

**

2 cloves garlic, minced

1 tomato, diced

4 eggs

salt and pepper, to taste
*Or use whatever your favorite cooking fat is – olive oil, butter, or bacon fat would all work well!
**Red or yellow are best as they're sweeter and have more nutrients than the green ones.
Method:

In a skillet, heat 1 Tbsp coconut oil over medium-high heat, then add 1 bell pepper, diced, and sautee until slightly softened, about 3 – 5 minutes.
Add 2 cloves garlic, minced, and sautee until fragrant, about 30 seconds.
Add 1 tomato, diced, and sautee until sizzling, about 1 – 2 minutes.
Break 4 eggs into the pan, and sprinkle with salt and pepper, to taste. Let sit for a minute, and then fold gently from the edges to scramble (because of the peppers and tomatoes in there, you won't need to scramble much).
Continue cooking, stirring occasionally, until the eggs are set (keeping in mind that they will still be a bit liquid-y from the tomatoes), about 5 minutes. Remove from pan, and add additional salt and pepper, if needed. Serve hot.
Related Posts: