8 Feb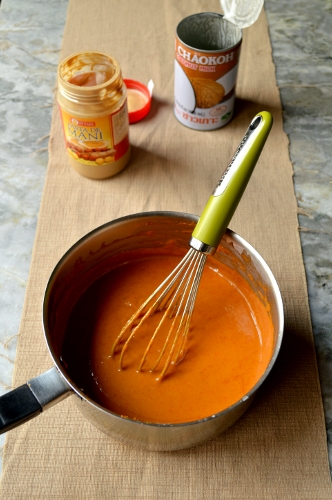 I've long been enamored of Thai food, and that's probably no surprise since it's right up my alley in many ways – strong, bold flavors with no fear of spice, often filled with fresh vegetables and herbs, and, of course, delicious salty-sweet combinations. This sauce is a perfect example. It's packed with flavor from a generous helping of Thai red curry paste, and the savory richness of peanut butter is well-balanced by sugar. It certainly doesn't hurt that it's also ridiculously simple to make and addictively tasty. The sauce can be thinned out with extra vinegar for a salad dressing, or used as is for dipping raw veggies. But, of course, it's most amazing in its traditional use, alongside Thai satay (I'll be posting a recipe for Thai chicken satay next week). The recipe makes quite a lot – enough for you to try it in a variety of applications, so long as you can resist eating up spoonfuls plain.

Thai Peanut Sauce (adapted from She Simmers)
Yield: about 3 cups
Ingredients:
1 1/2 cups coconut milk

*

3/4 cup peanut butter

**

1/2 – 3/4 cup sugar

***

1/2 cup water

1/4 cup Thai red curry paste

2 Tbsp white vinegar

1/2 Tbsp kosher salt
*This should be about 1 (13.5 ounce) can.
**Look for peanut butter where the only ingredients are peanuts or peanuts and salt. Depending on how salty the peanut butter is, you may need to adjust the salt in the recipe.
***I used brown sugar, but any sugar should work. I recommend starting with 1/2 cup and adding more sugar as needed to reach your desired level of sweetness. I ended up using a little under 3/4 cup.
Method:

In a medium saucepan, combine 1 1/2 cups coconut milk, 3/4 cup peanut butter, 1/2 – 3/4 cup sugar, 1/2 cup water, 1/4 cup Thai red curry paste, 2 Tbsp white vinegar, and 1/2 Tbsp kosher salt, and whisk together. Taste, and adjust sugar and salt, as needed.
Gently bring to a boil over medium heat, whisking constantly.
Lower heat, and let simmer until smooth and slightly thickened, about 3 – 5 minutes. Stir frequently to avoid scorching on the bottom.
Remove from heat, and let cool to just above room temperature. Serve warm, or refrigerate for up to a month (when ready to use, heat briefly, and thin with water, as necessary).
Related Posts: