26 Nov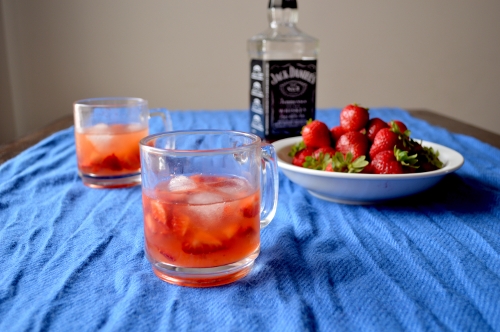 Strawberries are starting to show up here, reminding me why I chose to move to the Southern hemisphere just in time for spring. I couldn't resist buying some up and concocting this cocktail for the increasingly hot days. Nothing like sitting on the balcony, sipping on this dangerously tasty drink, and wishing the pool below was for this apartment building instead of the next one over. I've been feeling nostalgic for bourbon, so that's what I used, even though the bottle of Jack Daniels was pricey. Selection's limited around here (the Argentine imitations are, frankly, not even close). But this recipe can be adapted to whatever liquor you have on hand, and cheap liquor works just fine, so save your high quality stuff for drinking straight. Ginger mint simple syrup was ready and waiting in my refrigerator, and the flavors are great in here, but, again, feel free to adapt – plain simple syrup will do just fine, or if you have another fancy infused one around, use that. If winter's approaching where you are and strawberries aren't in season, the drink's tasty without them, and it's a great prop for pretending you're someplace warm, to boot.

Strawberry Bourbon Lemonade
Yield: 1 drink
Ingredients:
*This can be easily replaced with tequila, rum, or vodka, based on your preference.
**Regular simple syrup or another infused simple syrup can be substituted.
Method:
Place 1 – 2 strawberries, diced in the bottom of a glass, then top with 3 ice cubes, and stir together until some of the strawberry juices are released and coating the ice. Pour 3 Tbsp (1.5 ounces) bourbon, 1 Tbsp lemon juice, and 1 Tbsp ginger mint simple syrup into the glass. Stir together briefly, and serve.
Related Posts: