14 Nov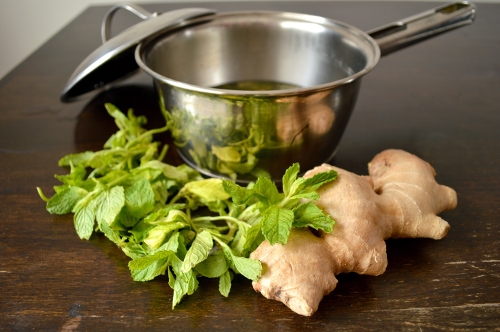 I love basics like this recipe. An infused simple syrup is a great building block that's great to have in your refrigerator because even though it's trivial to throw together, it makes it easy to add a gourmet touch. Suddenly, it's no problem to make ginger mint lemonade or ginger mint iced tea. Or you can pour a little bit over a fruit salad to take dessert to the next level. And, of course, it's the perfect addition to mixed drinks, a great foil for whiskey, gin, rum, tequila, or whatever your favorite spirit might be.

Ginger Mint Simple Syrup (adapted from The Pajama Chef)
Yield: approximately 1 1/2 cups simple syrup
Ingredients:
1 cup water

1 cup granulated sugar

1-inch piece ginger, thinly sliced

1/2 cup fresh mint leaves
Method:

In a small pot, combine 1 cup water and 1 cup granulated sugar, then add 1-inch piece ginger, thinly sliced and 1/2 cup fresh mint leaves, crushing the leaves to release the oils as you add them to the pot.
Bring the mixture to a boil, stirring to dissolve the sugar. Lower heat, and let simmer for 2 – 3 minutes, stirring occasionally.
Remove from heat, cover, and let steep for 20 minutes.
Strain to remove the ginger slices and mint leaves, and refrigerate the simple syrup until ready to use.
Related Posts:
Trackbacks and Pingbacks
November 26, 2012

[…] 1 Tbsp ginger mint simple syrup** […]

-