15 Feb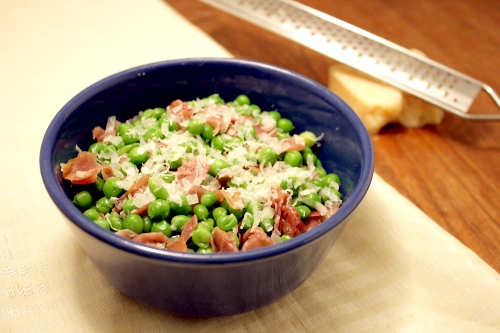 So I have this problem. If I get hungry and don't rush to fill my stomach, I start to get grumpy. Very grumpy. Woe be unto those in the near vicinity grumpy. Unfortunately, I also often work late, and with my tendency to make cooking dinner a multiple hour affair, this means that I have far more grumpy evenings than I would like. Since I can only snack on mixed nuts (my usual remedy) for so long, one night I found myself tossing together this quick pea and prosciutto salad to get myself through cooking dinner. The combination of the peas' crisp fresh flavor with the richness of the prosciutto turned out so delicious that I knew immediately I'd be making it again. I could see this dish being an extraordinary side to roast chicken or steak. Next time I make it, I'm thinking of drizzling some balsamic into the pan when adding the peas and prosciutto for an extra bit of tang.

Pea and Prosciutto Salad
Yield: 2 – 4 servings
Ingredients:
3 cups peas

*

1 Tbsp butter

2 – 3 cloves garlic, minced

2 slices prosciutto, torn into bite-sized pieces

**

salt and pepper, to taste

parmesan cheese, grated
*I used a 16 ounce bag of frozen peas, but fresh peas would probably be even tastier.
**You can substitute bacon; cook it first, and use the drippings instead of butter.
Method:

In a medium pot, bring water to a boil. Add 3 cups peas, and blanch for 1 – 2 minutes, then drain, rinse with cold water, and set aside.
In a medium or large sautee pan, heat 1 Tbsp butter over medium heat, then add 2 – 3 cloves garlic, minced, and sautee until fragrant, about 30 seconds.
Add the drained peas and 2 slices prosciutto, torn into bite-sized pieces. Cook until warmed through, then remove from heat, and add salt and pepper, to taste. Serve topped with parmesan cheese, grated.
Related Posts: