26 Mar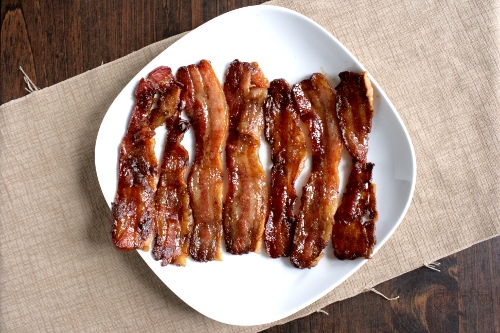 Today marks a special milestone for my blog. For more than six months, I've been posting here three times a week every week, and this post right here is my 100th post. I struggled trying to come up with the absolutely perfect recipe for this occasion. I wanted something I was really proud of, something unique and delicious, something salty and sweet. And when I came across this recipe, I knew it was the one. Candied bacon. Could anything be more perfect? The combination of salty, sweet, spicy, and smoky is unbelievably decadent and addictive. Not too difficult to make but certainly not an every day recipe (because it's not every day that you use a whole pound of bacon). Only five ingredients, but still customizable – you can change the spices, use all brown sugar, or use all maple syrup for some great variations. Thanks to everyone who's encouraged me along the way, by cooking the recipes and giving me feedback, taste testing my experiments, or just reading the blog! I can't wait to put up another 100 posts.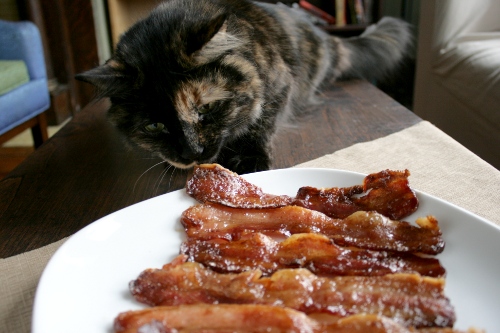 Candied Bacon (adapted from Serious Eats)
Yield: 8 – 14 strips of candied bacon
Ingredients:
1/2 cup brown sugar

1/4 tsp cinnamon

1/4 tsp cayenne pepper

*

1 lb thick cut bacon

**

1/4 cup maple syrup
*Use less or omit if you're not a fan of spicy.
**You really need thick cut bacon – and I even used slab bacon and cut my own 1/4″ thick slices (resulting in 8 slices for the entire pound).
Method:

Preheat the oven to 375.
In a small bowl, mix together 1/2 cup brown sugar, 1/4 tsp cinnamon, and 1/4 tsp cayenne pepper.
Line a baking sheet with aluminum, and set a wire rack on top, then lay 1 lb thick cut bacon on the rack.
Sprinkle 2/3 of the brown sugar mixture on top of the bacon.
Move the bacon to the oven, and bake until the sugar starts to caramelize and the edges of the bacon start to crisp, about 15 minutes.
Pour 1/4 cup maple syrup in a small bowl. Remove the bacon from the oven, brush the strips with half the maple syrup, flip and brush with the remaining maple syrup, then sprinkle with the remaining brown sugar mixture.
Return to the oven, and bake until the bacon fully crisps, about 10 to 15 minutes.
Remove from oven, let cool, and enjoy.
Related Posts: