12 Oct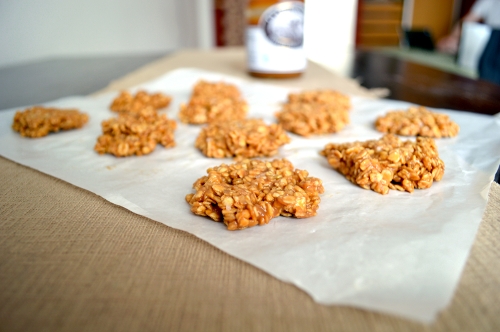 The eyes of every Argentinian I've met have lit up upon the mere mention of dulce de leche – this extra-sweet milk caramel is widely loved here. In the supermarket, there's practically an entire aisle dedicated to the stuff, row upon row of different brands and variations. After a couple weeks of sneaking spoonfuls out of the jar on a regular basis, I decided that I needed a better excuse for eating it. I was hoping to make some sort of cookies (like the alfajores that commonly sandwich the caramel here), but I'm a little intimidated by the oven in my apartment, as it's not labeled with temperatures or even the so-called gas mark system. Instead, the knob is identical to those for the stovetop, spanning from the image of a tiny flame to that of a big flame. So these no-bake cookies seemed absolutely perfect (and it certainly didn't hurt that they include another of my favorite ingredients – brown butter). And not only are they quick and simple to make, but they're downright addictive, with the nutty notes of the brown butter proving to be an excellent complement to the dulce de leche, and the extra pinch of fleur de sel on top taking them to my favorite sweet and salty place.

Brown Butter and Dulce de Leche No-Bake Cookies (adapted from Project Domestication)
Yield: approximately 3 dozen cookies
Ingredients:
3 Tbsp unsalted butter

1 tsp fleur de sel

*

1 cup dulce de leche

1/2 cup milk

3 cups old-fashioned oats

**
*If using another salt, make sure to cut back on the quantity.
**Oats are gluten-free, but many are processed on the same equipment as wheat, so make sure to check the label if you can't eat gluten.
Method:

In a medium saucepan, melt 3 Tbsp unsalted butter over medium heat, then let bubble, stirring occasionally, until the milk solids separate out (they will look like little white dots on the bottom of the pan) and then brown, about 5 – 10 minutes. Remove from heat immediately so the milk solids don't burn.
Add 1 tsp fleur de sel, and stir until dissolved, about 30 seconds.
Add 1 cup dulce de leche and 1/2 cup milk, and stir until smooth, about 3 – 5 minutes.
Return the pan to heat, and bring to a boil, stirring occasionally, until it thickens to a caramel consistency, about 2 – 3 minutes, then remove from heat.
Stir in 3 cups old-fashioned oats, one cup at a time.
Scoop out tablespoon-sized balls onto parchment paper (you can leave them in a ball shape or flatten them slightly, which is what I did). Sprinkle with extra fleur de sel, if desired, then place in the refrigerator or freezer until cool, about 30 minutes to 1 hour. These can be served straight out of the refrigerator or freezer or at room temperature.
Related Posts: