7 Sep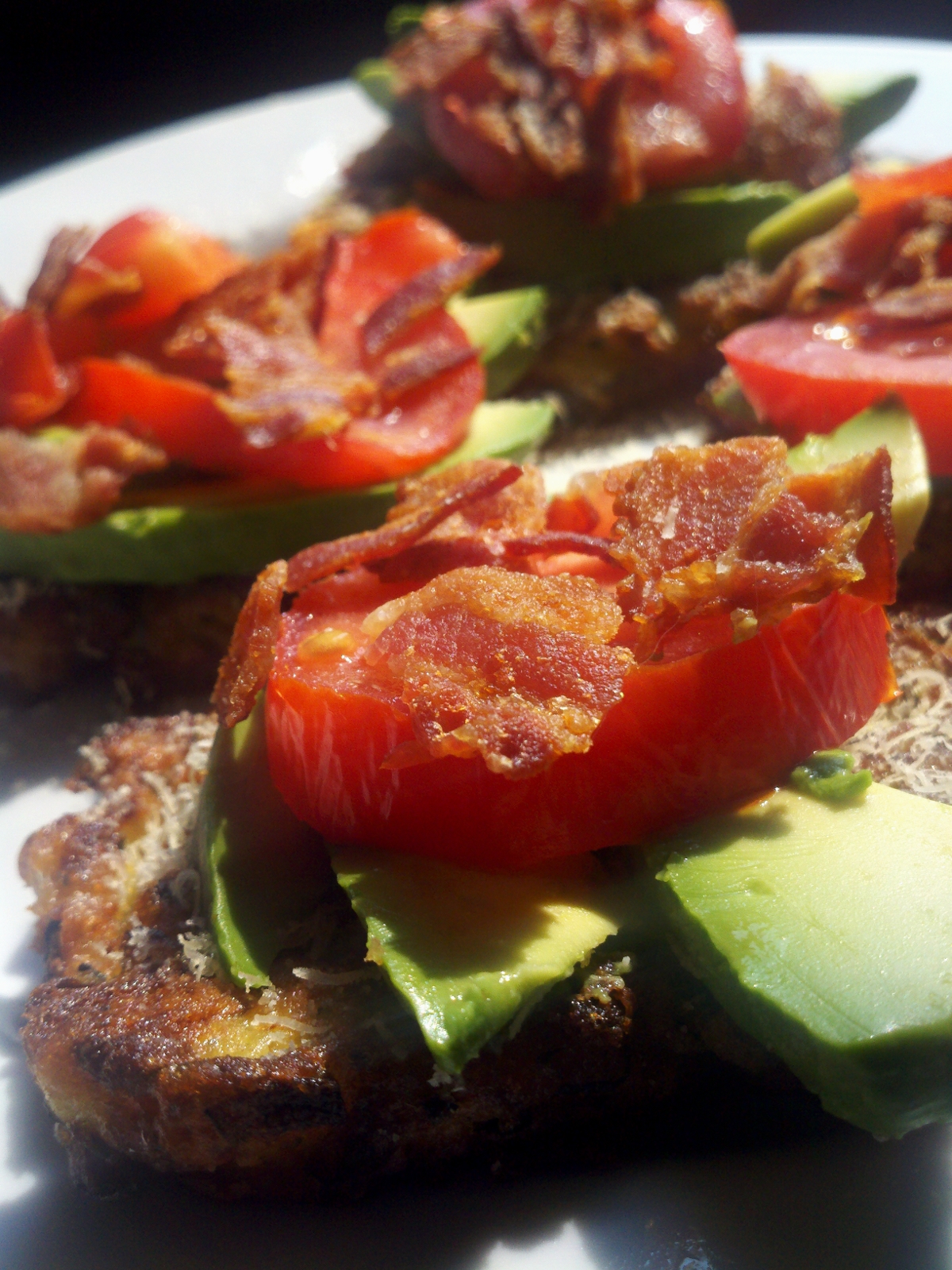 I've declared this week Zucchini Week. Harvest those last zucchinis in your garden or buy them up at the farmers market and grocery store on sale, and make these delicious recipes! See my Zucchini Chard Gratin from Monday and come back Friday for another zucchini recipe.
I made these zucchini fritter stacks as a lunchtime meal, but I think they would be amazing as an appetizer or party snack. The fritter itself is crispy with lots of flavor from the zucchini, cheese, and beer. Add tomato and avocado slices on top (and some bacon and extra cheese, of course) and you have a delicious combination of textures and tastes. You can deep-fry the fritters, but I don't like using that amount of oil (it seems like a waste (although you can filter and save the oil), and the more hot oil there is, the more scared I am of getting burnt), so I use a shallow-fry technique here.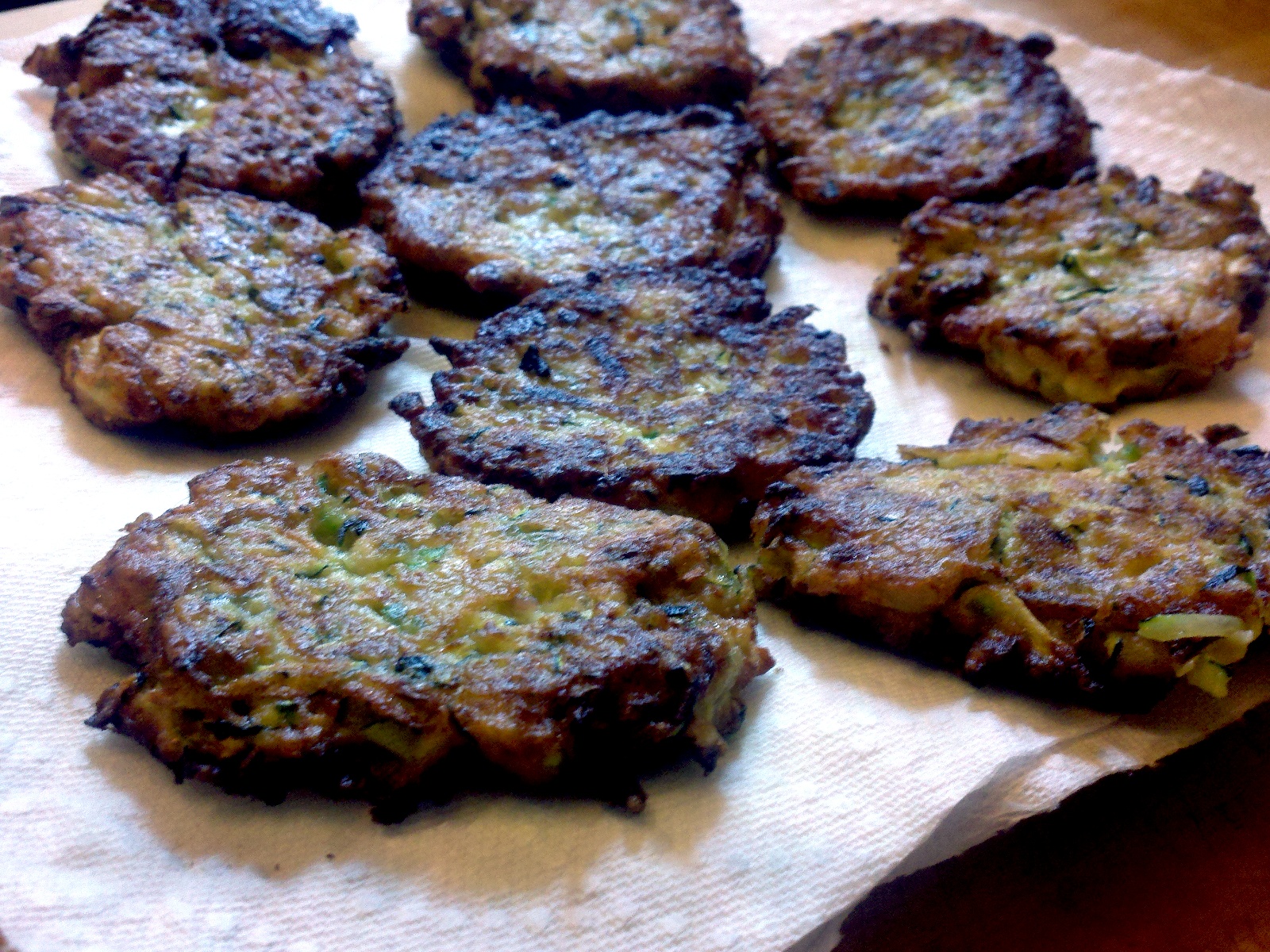 Zucchini Fritter Stacks (adapted from No Recipes and Sippity Sup)
Yield: 2 entrees or 4 appetizers
Ingredients:
1/2 cup all-purpose flour

1/4 cup hard cheese, finely grated + extra for topping

*

salt and pepper, to taste

1 large egg

1/2 cup cold beer

**

1 lb zucchini (about 1 large or 2 medium zucchinis), grated (about 1 cup, packed)

2 – 3 cloves garlic, finely minced

1 jalapeno, finely minced

enough vegetable oil for 1/4″ deep coating of the pan

1 tomato, sliced

1 avocado, sliced

4 – 6 slices bacon, cooked
*I used an aged gouda, but nearly any other hard cheese, such as cheddar, gruyere, or parmesan, will work well.
**I used a homebrewed saison here and would recommend a saison, amber ale, or other light to medium-bodied ale (you want to avoid anything really hoppy).
Method:

In a large bowl, combine 1/2 cup all-purpose flour, 1/4 cup hard cheese, finely grated, and salt and pepper, to taste.
In a separate bowl, beat 1 large egg until smooth, then gently stir in 1/2 cup cold beer.
Pour the egg mixture into the flour mixture, and stir until just combined.
Add 1 lb zucchini (about 1 large or 2 medium zucchinis), grated (about 1 cup, packed), 2 – 3 cloves garlic, finely minced, and 1 hot pepper, finely minced to the batter, and stir a couple times to combine.
In a heavy bottomed pot or sautee pan, heat enough vegetable oil for 1/4 – 1/2″ deep coating of the pan over medium-high heat until shimmering.
Using two spoons, drop batter of desired size (I made larger fritters but think these would be good approximately tablespoon-sized) into the hot oil, and fry until the bottom is golden-brown. Then flip (tongs are your friend here) and fry until the other side is golden-brown. Remove to a paper towel lined rack.
Top the fritters with extra cheese, 1 tomato, sliced, 1 avocado, sliced, and 4 – 6 slices bacon, cooked
Related Posts: