9 May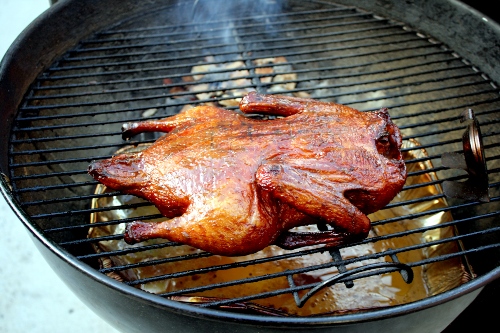 I'm an ambitious person. Ever since I was a kid, I've always dreamt big in everything I do. When people asked me what I wanted to be when I grew up, I said "the president" just because that was the biggest job I knew. My ambition's a lot more focused now. And cooking is one of the areas where I'm always trying to push myself. So when the idea of smoking a whole duck popped into my mind, I knew I had to do it. It required me to transform my (roommate's) grill into a smoker, not an easy feat for someone who's barely even worked the grill before (embarrassing, I know), but I did it (I used this Simply Recipes tutorial, by the by), and it worked wonderfully. It took about 24 hours total, from brining the duck overnight to letting it slowly cook in a haze of cherrywood smoke, and it was worth it. I like being an ambitious person, even though it means that I'm always aiming for something bigger and better… mainly because it means I'm always aiming for something bigger and better. If you're like me, maybe this is your next big cooking endeavor. I'm already planning my next one.

Smoked Duck (adapted from Hunter Angler Gardener Cook)
Yield: 6 – 8 servings
Ingredients:
8 cups water

1/2 cup kosher salt

1 tsp pink curing salt*

1 whole duck

**

maple syrup

***

wood for smoking

****
*This is really only necessary if you'll be smoking your duck at the lower end of the temperature range.
**If your duck seems on the fatty side, prick the skin all over to help the fat render, making sure not to puncture the meat itself.
**Real maple syrup only, please. You'll want about 1/4 cup total, and if your syrup is a little on the thinner side, you may want to bring 1/2 cup to a boil in a small saucepan and let cook for 10 – 15 minutes or until reduced by half.
***Fruit woods are ideal – I used cherry, but apple or apricot would work well too. Avoid hickory and mesquite as their flavor is too strong and bitter for this amount of smoking.
Method:

Mix together 8 cups water, 1/2 cup kosher salt, and 1 tsp pink curing salt.
Place 1 whole duck in a large container, then pour the brine over it (the duck should be completely or nearly completely submerged), and let sit in the refrigerator overnight.
Remove the duck from the brine, and pat dry. Position in a cool, drafty place (having a fan blowing on the duck is ideal) for a few hours, until the skin is dry.
Brush the duck with maple syrup, and then smoke (over a drip pan to catch the rendering fat) at 200 – 275 degrees Fahrenheit for 2 1/2 to 7 hours, flipping and brushing with maple syrup every hour or so. The cooking time will depend on the temperature (around 2 1/2 hours at 275 degrees, 3 1/2 hours at 250 degrees, and up to 7 hours at 200 degrees) so make sure you're monitoring it – I used an oven thermometer which you can see off to the right in the photo.
Remove duck from the smoker, sear on a hot grill or pan for a crispy skin, if desired, then let cool before slicing and serving.
Related Posts: