28 Sep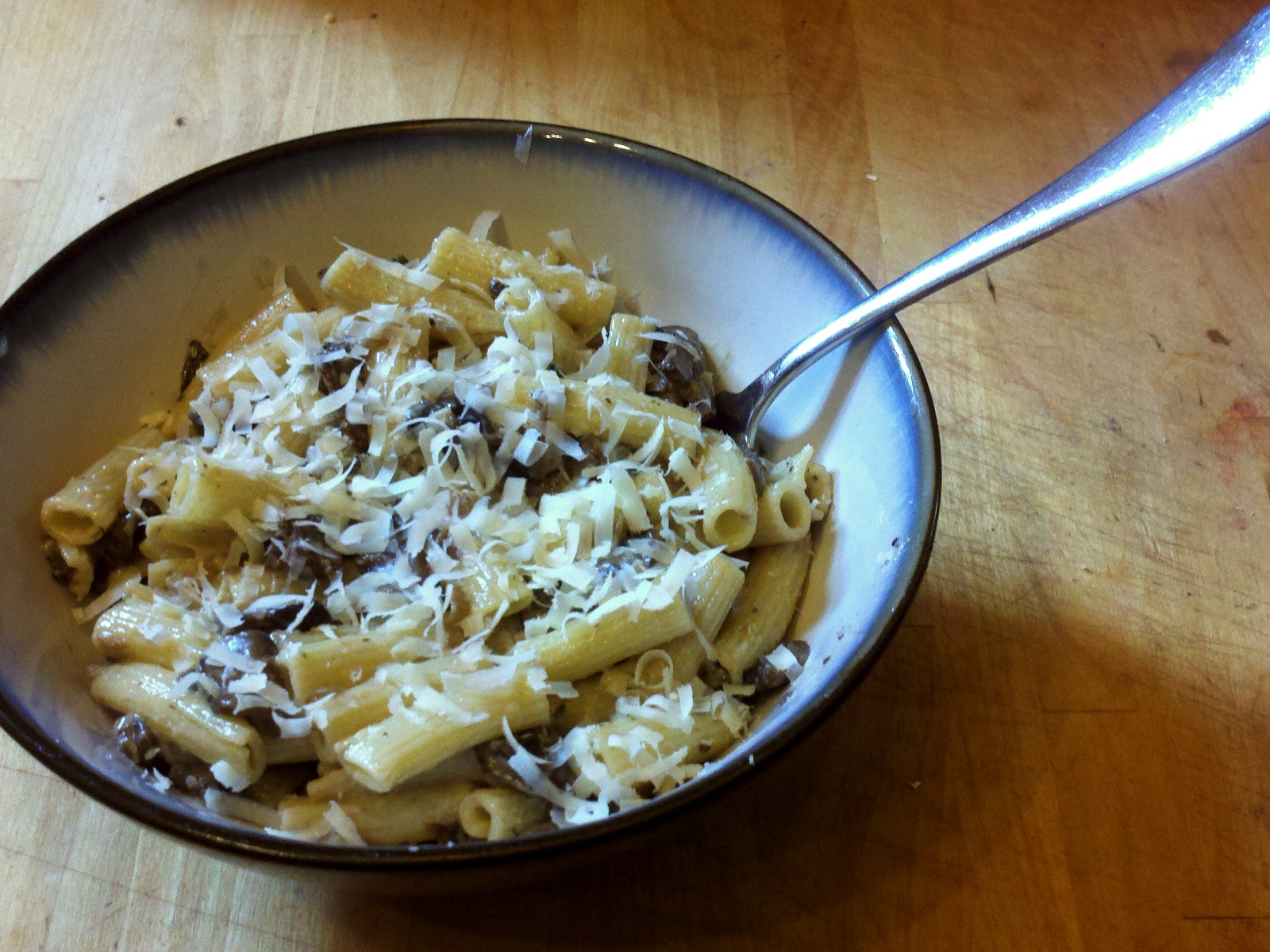 I'll admit: simple pasta dishes are my go-to when I'm feeling a bit lazy and uninspired for dinner (for another quick pasta dish, see my Roasted Veggie Pasta with Pomegranate Balsamic Reduction). But there's no reason why a lazy dinner can't end up feeling inspired after all, and with a deliciously rich parmesan cream sauce and a dash of truffle oil, this pasta manages to do just that.

Parmesan Mushroom Pasta with Truffle Oil
Yield: 4 servings
Ingredients:
1 lb pasta

*

1 Tbsp olive oil

1 large onion, sliced

1 lb mushrooms, sliced

3 – 4 cloves garlic, minced

2 Tbsp butter

2 Tbsp flour

1/2 – 1 cup cream

**

1/2 cup parmesan cheese, grated

truffle oil, to taste

***

salt and pepper, to taste
*I used penne, but any pasta that can soak up the sauce would be good here.
**You can substitute whole milk for the cream, if desired.
***Truffle oil
may seem pricey, but a small bottle should last you a long time because you only need to use a drop or two at a time.
Method:

Cook 1 lb pasta according to package directions, then drain, rinse under cool water, and set aside.
While pasta is cooking, heat 1 Tbsp olive oil over medium heat in a large sautee pan, and sautee 1 large onion, sliced until translucent and starting to darken in color, about 15 minutes.
Add 1 lb mushrooms, sliced and sautee until the mushrooms are dark and have released and then cooked off their juices, about 10 minutes.
Add 3 – 4 cloves garlic, minced, and sautee until fragrant, about 30 seconds to 1 minute.
Meanwhile, in a small saucepan over medium-low heat, melt 2 Tbsp butter, then whisk in 2 Tbsp flour, and cook, whisking frequently, for 5 – 10 minutes.
Whisk in 1/2 cup cream, then 1/2 cup parmesan cheese, grated, and then more cream as needed for desired consistency.
Pour the parmesan cream sauce over the mushrooms in the sautee pan, add pasta, and mix to combine.
Add truffle oil and salt and pepper, to taste.
Related Posts: