8 Oct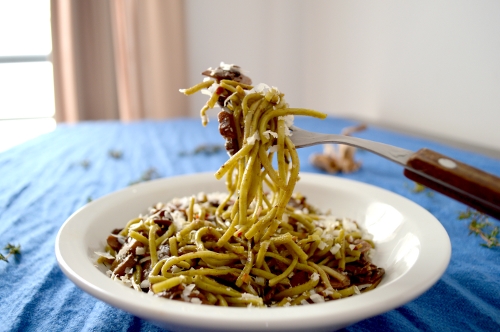 While there are some ingredients I've had difficulty finding here in Buenos Aires (like canned beans), there are others that I've been surprised to see in abundance. Black garlic, which I've never once seen on a grocery store shelf back in DC, is mysteriously present in multiple stores here. The vendor at the vegetable stall I bought it from warned me that it was not intended for cooking but rather meant to be eaten medicinally, but I'd heard of black garlic before and knew better. If you taste a clove plain, it's hard to believe this is garlic at all – the fermented ebony-colored cloves are sticky-sweet, with flavor reminiscent of a balsamic reduction or tamarind paste, but there's still a hint of mellow garlic flavor in the background. Definitely worth grabbing if you happen to see some around. I wanted to cook something simple but special with this, so I picked up some fresh pasta from the grocery store (another ingredient that can be easily found here in abundance – and is often cheaper than the dried stuff too!) – spinach pasta, hence the green hue in the photos – and combined the two with the earthy flavor of mushrooms and thyme (and some fresh garlic too, of course). The unique taste of black garlic permeates the dish, well-complemented by the other ingredients.

Mushroom and Black Garlic Pasta
Yield: 4 servings
Ingredients:
1 lb pasta

*

1 Tbsp olive oil

1 lb cremini or button mushrooms, sliced

3 – 4 sprigs fresh thyme

6 cloves black garlic, minced

**

3 – 4 cloves garlic, minced

1 jalapeno pepper, minced

(optional)

1/2 cup red wine

salt and pepper, to taste

parmesan cheese

(optional)
*I used some fresh spinach spaghetti because that's what I had on hand, but I think this dish would work well with nearly any type of pasta.
**Because of the sticky consistency of black garlic, it's a little difficult to mince, but just chop it as best you can – the idea is to get small pieces so they can be evenly distributed throughout the dish.
Method:

Cook 1 lb pasta according to package directions, then drain, rinse under cool water, and set aside.
While pasta is cooking, heat 1 Tbsp olive oil in a large sautee pan over medium-high heat, then add 1 lb cremini or button mushrooms, sliced, and sautee until they release their juices, about 5 minutes.
Add 3 – 4 sprigs fresh thyme, and continue sauteeing until the liquid has cooked off, about 10 more minutes.
Add a little more olive oil, if needed, then add 6 cloves black garlic, minced, 3 – 4 cloves garlic, minced, and 1 jalapeno pepper, minced (if using), and sautee until fragrant, about 1 minute.
Pour in 1/2 cup red wine, and cook, scraping to deglaze the pan, until the wine has reduced, a couple minutes.
Remove the thyme sprigs, then add the cooked pasta and toss together until heated through and well-combined with the sauce, then remove from heat.
Add salt and pepper, to taste, and serve topped with parmesan cheese, if using.
Related Posts: