15 Feb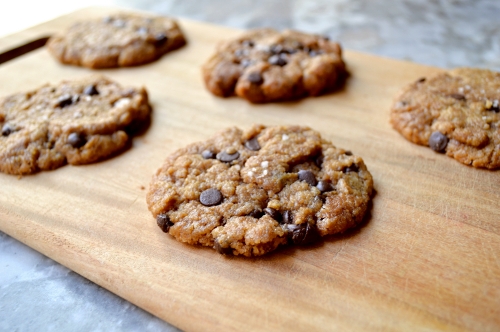 Can we talk about all the things I love about this recipe? Since there's no flour, it's great for gluten-free folks, and there's also no worry if you've run out of flour in your cabinet (or butter, for that matter). Another perk of the lack of flour is that you don't have to worry about overworking the dough. This means that you can taste and adjust the quantities of peanut butter, sugar, and salt, if you'd like (so long as you don't mind raw egg – or taste before adding the egg), so it'd be easy to practically just eyeball the recipe (not something a lot of baked goods can claim). Last, but most important, these cookies are delicious – and seriously addictive. These are probably the best peanut butter cookies I've ever eaten. Every time I ate one, I found myself saying, "I could eat a million of these" and needing to tuck the container out of sight. They're healthy, I tried to convince myself when inevitably grabbing another moments later – there's no butter or flour, plus there's added protein from the peanut butter (shh, don't remind me about all that sugar). You probably want to double the recipe – trust me. You can thank me later.

Flourless Peanut Butter Cookies (adapted from Recchiuti Confections)
Yield: 2 dozen cookies
Ingredients:
1 cup peanut butter

*

6 Tbsp granulated sugar

6 Tbsp brown sugar

1 egg, lightly beaten

1 tsp vanilla extract

1/2 tsp baking soda

1/4 tsp kosher salt

6 ounces semisweet chocolate

**

fleur de sel

(optional)
*Look for peanut butter where the only ingredients are peanuts or peanuts and salt. If it's salted peanut butter, omit the salt in the batter.
**Chopped or in chips/chunks, please.
Method:

Preheat the oven to 350°F.
In a large bowl, combine 1 cup peanut butter, 6 Tbsp granulated sugar, and 6 Tbsp brown sugar, and mix thoroughly until well-combined and somewhat lightened and fluffy.
Add 1 egg, lightly beaten, 1 tsp vanilla extract, 1/2 tsp baking soda, and 1/4 tsp kosher salt, and stir until well-combined.
Stir in 6 ounces semisweet chocolate.
Drop 1 Tbsp sized scoops onto baking sheets lined with parchment paper or a silpat, approximately 2 inches apart.
Flatten the cookies slightly, using a fork or the bottom of a glass, then sprinkle with fleur de sel, if using.
Bake, rotating sheets halfway through, until puffed and lightly golden, about 12 – 15 minutes. Remove from oven, and let cool on sheet for 10 minutes before carefully removing to cooling racks.
Related Posts: