24 Sep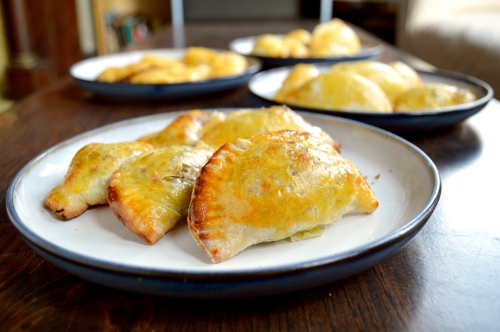 Today, I'm going to start this post with an apology. Anyone who follows this blog knows that I've been very good from the beginning about posting every single Monday, Wednesday, and Friday. In fact, up until last week, I had not yet missed a post (in over a year). So, I'm sorry for letting Sel et Sucre go dark last Wednesday and Friday. As I'd mentioned previously, I moved to Buenos Aires this past Wednesday, and despite my (in retrospect, delusional) hopes of keeping up my posting, I was far too overwhelmed to do so. This week, I'll be doing something extra special to make up for it though – posting every weekday!
Before leaving, in honor of the trip, I cooked up four different varieties of empanadas, stuffed pastries (typically savory) that are very popular in Argentina, eaten as an appetizer or full meal. I'll be posting all week about these empanadas, starting with today's recipe for the dough. Similar to a pie dough, it's quite easy to throw together, with the most important thing being not to overwork it. The flaky result is the perfect base for all sorts of different fillings. I actually ended up making three times this dough recipe for a total of 96 mini empanadas. I think I would have preferred larger empanadas though, so that each would have more filling (which would also mean less work filling and closing the empanadas). Whether you make small (appetizer-sized) or large (entree-sized) empanadas, this dough recipe is worth trying out, for not much more effort than heading to the store and buying frozen dough, but a lot more flavor!

Empanada Dough (adapted from Laylita's Recipes)
Yield: enough dough for about 20 large or 30 small empanadas
Ingredients:
3 cups all-purpose flour

1/2 tsp salt

1/2 cup (1 stick) very cold butter, diced

1 egg

1 cup milk
Method:

In a large bowl, briefly whisk together 3 cups all-purpose flour and 1/2 tsp salt.
Sprinkle 1/2 cup (1 stick) very cold butter, diced over the flour mixture, and work in using a pastry blender, two knives, or your hands, until the pieces of butter are approximately the size of tiny peas. Be careful not to overwork.
Add 1 egg and about half of 1 cup milk over the dough, and gently pull the dough together using a spatula, adding more milk a tablespoon at a time until the dough starts to form large clumps (you may not need all the milk).
Gather together the dough, form into one or two balls, and wrap in saran wrap. Refrigerate for at least half an hour (and up to a couple days) before using.
When ready to use, roll out into a thin sheet on a floured surface, and cut into round discs. Proceed according to recipe.
Related Posts: