29 Jun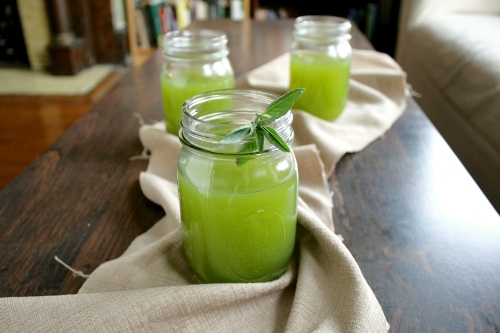 I've been posting about Thai basil all week, and here's a final recipe honoring one of my favorite herbs. Perfect for the seemingly constant heatwaves that have been hitting DC lately. An amazingly refreshing agua fresca. A little sweet and a little tart and packed with flavor from the Thai basil (this is one recipe where other varieties of basil can be readily substituted, too, if that's what you have in abundance), this is exactly the drink I want to sit and sip on during a hot summer day. It's also ridiculously simple to make and a vibrant glowing green color, so it's a great option to serve to guests.

Thai Basil Lime Agua Fresca (adapted from Thai Cooking With Jam)
Yield: 4 – 6 drinks
Ingredients:
4 cups Thai basil leaves

1/2 – 3/4 cup lime juice

*

2 cups simple syrup

**

sparkling water
*Fresh-squeezed is ideal – you'll need about 4 – 6 limes.
**To make 2 cups simple syrup, combine 1 cup water and 1 cup sugar, then bring to a simmer over medium-high heat, stirring, until the sugar is dissolved.
Method:

In a blender or using an immersion blender, combine 4 cups Thai basil leaves, 1/2 – 3/4 cup lime juice, and 2 cups simple syrup, and blend until smooth.
Strain the mixture through a cheesecloth-lined colander.
Mix with sparkling water at a 1:2 (mix:water) ratio for drinks, and store any remaining mix in the refrigerator until ready to use.
Related Posts: