15 Jun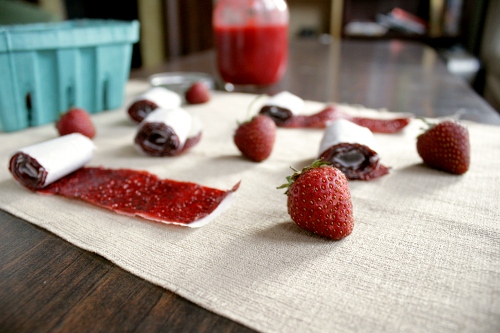 Earlier this week, I mentioned my trip to Istanbul and my newfound appreciation for Turkish food. As someone who loves spice, my favorite acquisition from my trip was a large bag of Turkish red pepper. An immensely flavorful twist on the crushed red pepper you may be more familiar with (and can use to substitute here), I've been taking any excuse to use it. Turkish red pepper is great with eggs or to add a little extra kick to dips or stews. But I've done something a little more unusual here. When I got back in town, strawberries were coming in season, tempting me at every turn, and I was determined to make homemade fruit roll-ups (often called "fruit leather"). As the strawberries were cooking down, I couldn't resist throwing in a hefty portion of my new favorite spice, and the result was fantastic. Turkish red pepper isn't too spicy, so there's just a mild hint of spiciness at the end, a great complement to the perfect sweetness of in-season strawberries. I actually made a double batch of this recipe and left half as a sauce – amazing for stirring into yogurt, pouring over ice cream, or even adding a hint of sweetness to a salad dressing.

Spicy Strawberry Fruit Roll-Ups
Yield: 12 1″x17″ fruit roll-ups
Ingredients:
1 quart strawberries, roughly chopped

2 Tbsp granulated sugar

*

1/2 Tbsp lemon juice

1/4 tsp Turkish red pepper

(optional)

pinch kosher salt
*If your strawberries are extra sweet, you may be able to omit this.
Method:

In a medium saucepan, combine 1 quart strawberries, roughly chopped, 2 Tbsp granulated sugar, 1/2 Tbsp lemon juice, 1/4 tsp Turkish red pepper, and pinch kosher salt, and bring to a low boil over medium heat, stirring.
Mash the strawberries lightly, and continue to cook until they are softened, about 5 – 10 minutes. Transfer to a blender or use an immersion blender to puree until smooth.
Return to a boil, and let cook, stirring occasionally, until the puree has thickened, about 10 minutes.
Taste, and add more sugar, lemon juice, or red pepper, if desired (but keep in mind that all the flavors will be more concentrated after cooking), then remove from heat, and let cool for 10 minutes.
Meanwhile, preheat your oven as low as it goes (170 degrees on mine), and line a 12″ x 17″ baking sheet with a silpat or brush with unflavored vegetable oil.
If you don't want seeds in your fruit roll-ups, strain the strawberry puree through a mesh strainer to remove them.
Ladle the strawberry puree onto the lined sheet, and use a spatula to spread into a thin layer, approximately 1/4″ thick – keep in mind that this will get even thinner as it dehydrates.
Bake (or use a dehydrator) until the puree is no longer sticky to the touch, about 4 – 6 hours. The time will vary drastically based on your oven's lowest temperature, so make sure to keep checking. The edges will be done before the center, and you can brush them with water to rehydrate slightly, if desired.
Remove from oven, and let cool, then place a sheet of parchment paper on top of the cooked puree, and carefully peel up the fruit from the short end, rolling up in the parchment paper as you go.
Cut this roll into 12 individual fruit roll-ups, each approximately 1″ wide.
Related Posts: