23 Sep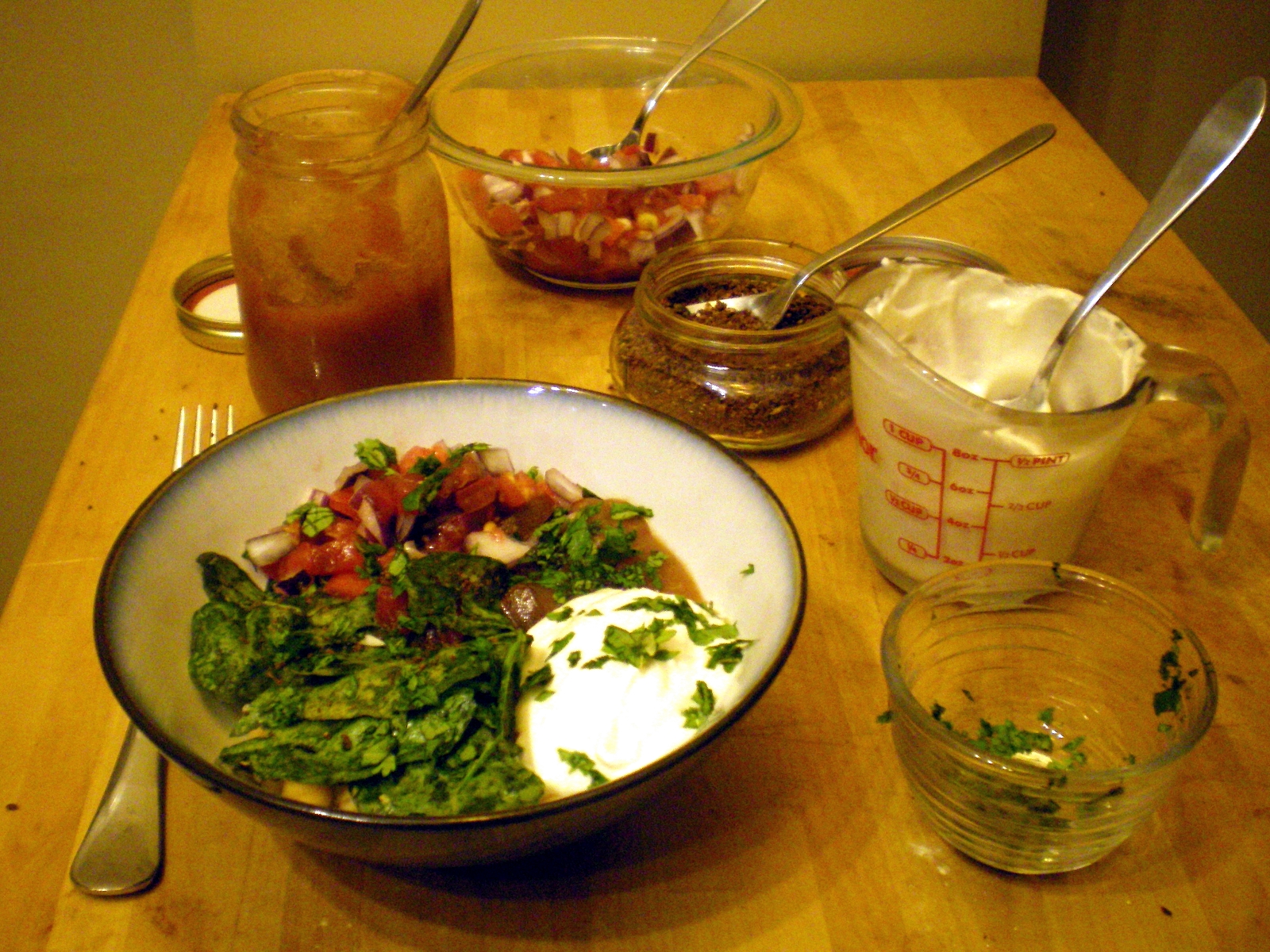 I recently had the pleasure of dining at Rasika, a very popular DC Indian restaurant, and trying their famous palak chaat. This dish is an amazing medley of textures and flavors, with crispy spinach playing off a sour-sweet chutney and sweetened yogurt, and I knew almost immediately that I had to try my best to recreate it. I've dedicated this week to a series of posts on recreating all the pieces of Rasika's palak chaat. This post is the third in a series of three. See post 1: Chaat Masala and post 2: Date Tamarind Chutney.
Creating the perfect crispy spinach was the difficult piece of this recipe. Going off of all the information I could glean from my dining experience and some internet research, I first tried frying the spinach with a light coating of gram flour, baking soda, and salt. This was a disaster; the batter kept burning in the oil, and the spinach was either not crispy enough or crumbled apart unpleasantly when eaten. After some experimentation with oven temperature, I found that not only was it much easier to bake the spinach, but it yielded much better results.

This recipe makes approximately four appetizer-sized servings (or potentially two full meals), but the flavors are truly addictive so you may very well want to double the recipe. When I prepared this, I included some chickpeas (you can see them peaking out from under the spinach in the photo), and diced avocado or dates would also be welcome additions.
Palak Chaat
Yield: 4 appetizer servings
Ingredients:
1/4 cup gram flour

1/2 tsp kosher salt

1 lb baby spinach

1/2 cup Greek yogurt

*

1/2 tsp sugar

chaat masala, to taste**
date tamarind chutney, to taste**

1/2 red onion, diced

1 large tomato, diced

1/4 cup cilantro, minced
*Greek yogurt adds an extra richness to the dish; you can substitute regular yogurt, but I'd recommend straining it (let it sit in a cheesecloth-lined strainer for about half an hour) to get closer to the consistency of Greek yogurt.
**You'll probably want about a tsp of chaat masala and 2 Tbsp of date tamarind chutney per serving, but as the flavors of your masala and chutney may vary, make sure to taste and adjust.
Method:

Preheat oven to 400 degrees.
Combine 1/4 cup gram flour and 1/2 tsp kosher salt, then sprinkle the mixture over 1 lb baby spinach.
Spread the spinach out on a baking sheet, making sure that there is no overlap – you will need to use multiple sheets and/or do multiple batches. Bake for 5 minutes or until crisp.
Meanwhile, combine 1/2 cup Greek yogurt and 1/2 tsp sugar. Set aside.
Set out chaat masala, date tamarind chutney, 1/2 red onion, diced, 1 large tomato, diced, and 1/4 cup cilantro, minced. For each serving, start with some crispy spinach and build with the yogurt mixture and these accompaniments.
Related Posts: