7 Sep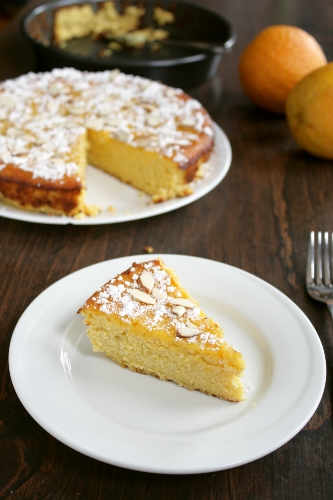 This cake is not for everyone. Rich, dense, and decidedly tart from oranges that have been pureed whole in the batter. I could see the intense citrus flavor being overpowering for some, but I love it. Not overly sweet but still decadent. Almond flour also lends a pleasantly nutty taste with the added health bonus of fiber, calcium, and iron. I found this cake got progressively moister and nearly creamy in texture after sitting (covered, of course) for a few days – and any powdered sugar on top was mysteriously absorbed (so I recommend topping slices as you cut them). You could also top this cake with whipped cream, of course, or serve it with fresh berries. If you like unique and intense flavors in your desserts (as I do), then this cake should be your next project.

Orange Almond Cake (adapted from Souvlaki for the Soul)
Yield: 1 9″ cake
Ingredients:
2 whole oranges

6 eggs, lightly beaten

2 1/4 cups almond flour

*

1 – 1 1/2 cups granulated sugar

**

1 tsp baking powder

1/4 tsp salt
*You can make your own by grinding blanched almonds (which is what I did).
**I only used 1 cup, and this resulted in a cake that is much less sweet than most (which, personally, I liked). If you prefer your desserts on the sweeter side, use 1 1/2 cups.
Method:

In a medium saucepan, combine 2 whole oranges with enough water to cover, and bring to a boil. Let boil until the oranges are soft, about 1 – 2 hours, making sure to weight down the oranges or turn them partway through since they will float. Drain the oranges, and let cool.
Preheat oven to 350 degrees.
Butter a 9-inch round cake pan. Line the bottom of the pan with a round of parchment paper, then butter the paper.
Chop off the ends of the cooled oranges, cut into quarters, and remove any seeds or large pithy pieces. Using a food processor, blender, or immersion blender, blend the orange quarters (yes, skin and all) until smooth.
Add 6 eggs, lightly beaten, and blend until combined.
Add 2 1/4 cups almond flour, 1 – 1 1/2 cups granulated sugar, 1 tsp baking powder, and 1/4 tsp salt, and stir until well-combined.
Pour the batter into the prepared cake pan, and bake until set, 45 minutes to 1 hour.
Let cool in the pan completely, then remove from pan, and top with powdered sugar and sliced almonds or serve with whipped cream.
Related Posts: