3 Aug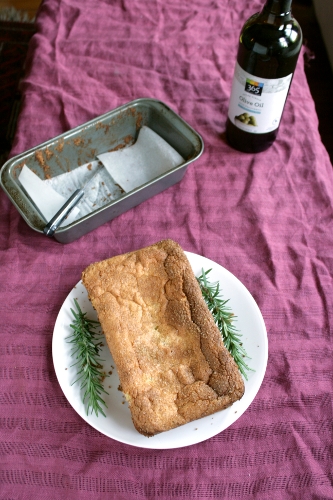 I'm a big fan of olive oil. Extra-virgin, of course. It's my go-to for roasting vegetables, the first thing I reach for when sauteing onions, and the natural base for homemade salad dressings. I even add it to my soap (it's a moisturizer!). So here is my ode to olive oil, in the form of a cake. Paired with lemon and rosemary, two among many flavors that sing alongside its fruitiness, the olive oil somehow yields a cake richer than if it had been made with butter. This cake is similar to a sponge cake, fluffed up with beaten egg whites and topped with turbinado sugar, and although I found it deflated after leaving the oven, the texture still seemed spot on to me. I intended to try a couple slices with fresh fruit and whipped cream, but to be honest, it was gone before I had a chance and tasted just perfect as is.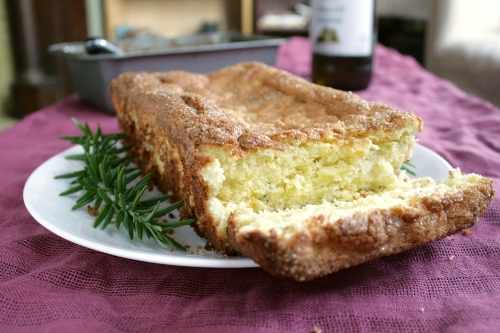 Lemon Olive Oil Cake (adapted from Epicurious)
Yield: 1 8″x4″ loaf pan or 9″ cake pan
Ingredients:
1 cup cake flour

1/2 Tbsp lemon zest

*

1/2 Tbsp finely chopped fresh rosemary

5 egg yolks

1/2 cup + 1/4 cup granulated sugar

3/4 cup extra-virgin olive oil

**

2 Tbsp lemon juice

*

4 egg whites

1/2 tsp salt

1 1/2 Tbsp turbinado sugar
*This should be all the zest and juice from 1 lemon.
**Doesn't need to be the fancy stuff (save that for salads!), but do make sure it's extra-virgin.
Method:

Preheat oven to 350 degrees.
Oil a 8″x4″ loaf pan or 9″ springform or cake pan, then line bottom with parchment, and oil the parchment.
In a medium bowl, whisk together 1 cup cake flour, 1/2 Tbsp lemon zest, and 1/2 Tbsp finely chopped fresh rosemary, then set aside.
In a stand mixer fitted with the whisk attachment or using an electric mixer, beat together 5 egg yolks and 1/2 cup granulated sugar on high speed until thick and pale, about 3 minutes.
Reduce speed to medium, and add 3/4 cup extra virgin olive oil and 2 Tbsp lemon juice, beating until just combined (the mixture may appear separated).
Stir in the flour mixture by hand until just combined, then set aside.
In a clean bowl, using a thoroughly cleaned whisk attachment or electric mixer, beat 4 egg whites and 1/2 tsp salt on medium-high speed until foamy, then add 1/4 cup granulated sugar a little at a time, beating, until the egg whites hold soft peaks, about 5 minutes.
Gently fold one third of the whites into the yolk mixture to lighten, then fold in the remaining whites gently but thoroughly.
Transfer the batter to the prepared pan, and gently rap against the work surface once or twice to release any air bubbles.
Sprinkle the top evenly with 1 1/2 Tbsp turbinado sugar.
Bake until puffed and golden brown and a toothpick inserted in the center of the cake comes out clean, about 25 – 35 minutes.
Cool cake in the pan for 10 minutes, then run a knife around the edges to release from the side (and remove the side if using a springform pan).
Continue to cool to room temperature, about an hour, then remove from the pan, and serve.
Related Posts: