4 Jan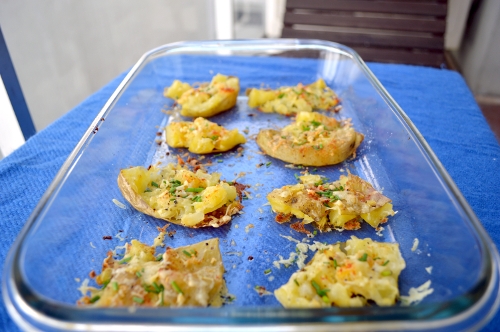 When I was in college, I wasn't much of a chef. I definitely preferred buying a fast food burrito to cooking a meal for myself. But I slowly started learning very basic recipes and cooking them over and over – grilled cheese with tomato, egg in the hole, that sort of thing. These hot crash potatoes, though, were one of my favorites. A more ambitious dish than the rest of what I was cooking at the time, since it involves boiling and then baking the potatoes, meaning 45 minutes to an hour of cook time, though most of it is only spent waiting. Embarrassingly, I'd just eat a batch of these as a meal (maybe topped with bacon). Recently, I had a couple potatoes hanging around, so I thought I'd dig up this old classic. These days, it seems really simple compared to what I usually cook, but, as before, the crisp edges and creamy interior make these potatoes hard to resist. This is also one of the first recipes I learned to get creative with, varying the toppings on the potatoes to suit my mood. My favorite additions are still simple – minced garlic, paprika for a little extra color, cheese of any sort (though they're also just fine without it), and a sprinkle of fresh herbs at the end.

Hot Crash Potatoes (adapted from The Pioneer Woman)
Yield: 2 – 3 servings
Ingredients:
6 – 8 small potatoes

*

1 Tbsp olive oil

1 clove garlic, minced

1/2 tsp paprika

salt and pepper, to taste

grated cheese

(optional)

fresh chives, chopped

**
*Or larger potatoes cut into 2-inch pieces.
**Or nearly any other fresh herb, such as parsley, basil, or oregano.
Method:

Combine 6 – 8 small potatoes with enough salted water to cover, and bring to a boil over high heat. Continue boiling until the potatoes can be easily pierced with a fork, about 15 – 20 minutes.
Meanwhile, preheat oven to 450°F.
Once the potatoes are cooked, drain them and transfer to a lightly oiled baking sheet or roasting pan.
Gently flatten each potato, using a potato masher or the bottom of a heavy glass.
Brush the tops of the potatoes with 1 Tbsp olive oil, then sprinkle with 1 clove garlic, minced, 1/2 tsp paprika, and salt and pepper, to taste. You can also top with grated cheese, if desired.
Bake until golden-brown and crispy around the edges, about 20 – 25 minutes.
Top with fresh chives, chopped, and serve hot.
Related Posts: