12 Dec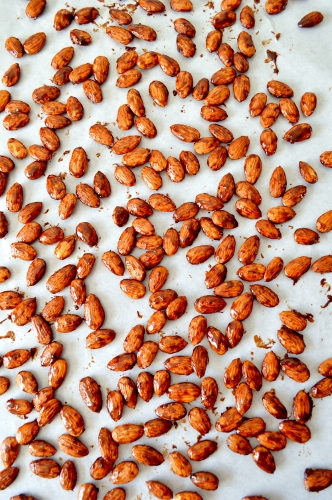 I'm a big fan of candied nuts – which probably isn't too surprising coming from someone who loves any combination of salty and sweet. They make a great snack and a great gift (when I can manage not to eat them all myself). I love the ease of this particular preparation where there's no separating out and beating egg whites, just a simple whisking together of honey with spices. The resulting nuts are a bit stickier than many candied nuts, but I found I didn't mind at all and still found them addictively tasty. I used almonds here since they're one of my favorite nuts (and one of the healthiest too!). Cinnamon provides the spicing, and I also added a little ancho chile powder for some heat and smokiness – you can omit this if you're not a fan of spice or use smoked salt to get the smokiness without the heat.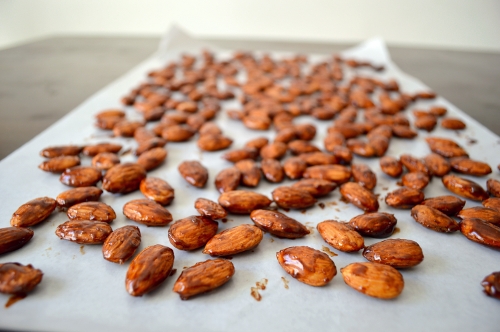 Honey Cinnamon Almonds (adapted from Simply Sugar and Gluten-Free)
Yield: 2 cups
Ingredients:
2 Tbsp honey

*

1 Tbsp vegetable oil

1/2 Tbsp cinnamon

1/2 tsp kosher salt

1/4 tsp ancho chile powder

(optional)

2 cups almonds
*Substitute agave syrup for a vegan version.
Method:

Preheat the oven to 350°F.
In a small bowl, whisk together 2 Tbsp honey, 1 Tbsp vegetable oil, 1/2 Tbsp cinnamon, 1/2 tsp kosher salt, and 1/4 tsp ancho chile powder.
Toss 2 cups almonds with the honey and spice mixture, making sure they are coated completely, then spread them in a single layer in a roasting pan.
Roast, stirring every 5 minutes, until nuts are toasted through, about 15 minutes.
Remove from oven, stir to mix in any of the honey mixture on the bottom of the pan, then spread on aluminum foil or parchment paper to cool, breaking apart any nuts that stick together.
Related Posts: