17 Feb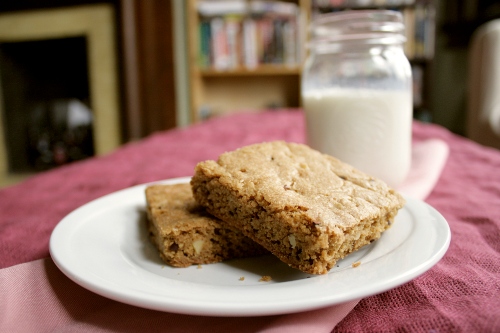 Browning butter is truly a magical process. Somehow, simply by adding heat, your run of the mill stick of butter transforms with nutty caramel notes that elevate nearly everything. I'm not usually a butter fiend, but when the aroma of browning butter starts to waft through the air, it's all I can do not to start eating it plain. Brown butter can be used in both savory and sweet dishes, but I think my favorite use is these brown butter blondies. They're incredibly easy to make and really showcase the butter's phenomenal transformation (the combination of the brown butter with brown sugar has prompted many to ask me if there's caramel in these). This time around, I mixed in finely chopped walnuts and cocoa nibs, but they've been equally delicious in the past with hazelnuts and toffee bits. Actually, nearly any leftover sweet bits (or savory, if you're feeling adventurous) in your pantry can work here, or you can even forgo the mix-ins entirely. I've made these blondies for hosting friends, meeting new roommates (one of whom I ended up dating – can't be a coincidence, right?), bringing along to parties, and just when craving something sweet. Toss these together the next time you're in the mood for a decadent treat, and you will most assuredly not be disappointed.

Brown Butter Blondies (adapted from Simply Recipes)
Yield: 12 – 18 blondies
Ingredients:
1 cup (2 sticks) butter, browned

*

1 3/4 cups packed brown sugar

2 eggs, lightly beaten

1 tsp vanilla extract

2 cups all-purpose flour

1 tsp baking powder

1/4 tsp baking soda

1/4 tsp salt

2/3 – 1 cup mix-ins of choice

**
*To brown butter, melt over medium heat, then let bubble, stirring occasionally, until the milk solids separate out (they will look like little white dots on the bottom of the pan) and then brown (the whole process should take 5 – 10 minutes). Remove from heat immediately so the milk solids don't burn. Let cool slightly before using.
**I used 1/2 cup finely chopped walnuts and 1/4 cup cocoa nibs in mine, but hazelnuts, chocolate chips, butterscotch chips, and toffee bits are all great choices.
Method:

Preheat the oven to 350 degrees. Butter and flour a 9×9 or 9×13 pan (I used 9×13, and although it almost seemed like there was too little batter, they cooked up nicely – a 9×9 pan will yield thicker blondies).
In a medium bowl, combine 2 cups all-purpose flour, 1 tsp baking powder, 1/4 tsp baking soda, and 1/4 tsp salt and set aside
In a large bowl, whisk together 1 cup (2 sticks) butter, browned and 1 3/4 cups packed brown sugar.
Add 2 eggs, lightly beaten and 1 tsp vanilla extract and whisk to combine.
Add the dry mixture to the wet ingredients, and stir together until just combined.
Stir in 2/3 – 1 cup mix-ins of choice.
Bake until a toothpick inserted in the center comes out clean, about 20 – 25 minutes.
Related Posts: