20 Jun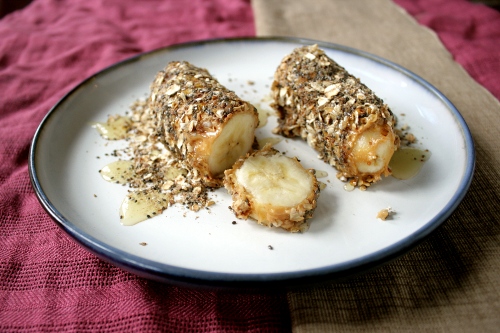 I often find myself needing a quick yet filling breakfast to get me going in the morning, and I've posted a few of my usual breakfast recipes before. Well, here's another recipe that fills the role quite nicely. A riff on the classic combination of banana and peanut butter, rolled in a mixture of oats, flaxseed, chia seeds, and cinnamon for a great source of protein and fiber to start your day. It accomplishes the trifecta I often strive for: simple, healthy, and delicious. This recipe can easily be customized based on what you have around – coconut flakes or finely chopped nuts would be a great addition, for example, or you could even use granola to roll in for an especially simple version.

Banana Breakfast Roll (adapted from Some the Wiser)
Yield: 1 serving
Ingredients:
2 Tbsp peanut butter

*

1/2 Tbsp honey

1 Tbsp quick or old-fashioned oats, toasted

**

1/2 Tbsp ground flaxseed

1/2 Tbsp chia seeds

1/4 tsp ground cinnamon

1 banana, peeled
*Look for peanut butter where the only ingredients are peanuts or peanuts and salt. If unsalted, add a pinch of salt when mixing the peanut butter and honey.
**To toast oats, simply heat a small pan over medium-high heat, add the oats, and cook, stirring frequently, until they are slightly browned and smell toasty. Oats are gluten-free, but many are processed on the same equipment as wheat, so make sure to check the label if you can't eat gluten.
Method:

In a small bowl, mix together 2 Tbsp peanut butter and 1/2 Tbsp honey until smooth, then set aside.
In a wide, shallow bowl or on a plate, mix together 1 Tbsp quick or old-fashioned oats, toasted, 1/2 Tbsp ground flaxseed, 1/2 Tbsp chia seeds, and 1/4 tsp ground cinnamon until everything is just about evenly distributed.
Completely coat 1 banana, peeled with the peanut butter mixture (I cut my banana in half to make this easier or you could even do smaller chunks), then roll the sticky banana in the oat mixture. Serve with an extra drizzle of honey.
Related Posts: