3 Sep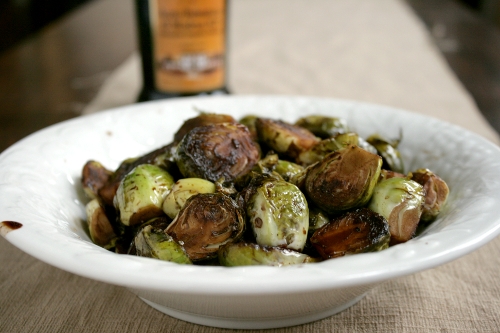 I know brussels sprouts are traditionally a much hated food, but I love them. Like other cabbages (which I also love), I find them best when still crisp (or even raw!). Here, in my favorite preparation for brussels sprouts (and one that I think could convert those who normally aren't fans), they're seared in bacon fat, then finished in a balsamic reduction, so while the insides are still crisp, the edges are soft and caramelized, and every bite is imbued with the sweet and tangy flavor of the balsamic. As a bonus, they're also very quick and easy to make. You can make lots of tasty additions to this basic recipe, including chopped nuts (walnuts, almonds, and hazelnuts would all be good here), grated cheese (parmesan, gruyere, or gouda, to get you started), raisins, or crumbled bacon from the slices you cooked up to get the bacon fat used here, of course.

Bacon Balsamic Brussels Sprouts
Yield: 4 – 6 sides
Ingredients:
2 Tbsp bacon fat

*

1 lb brussels sprouts, halved

1 clove garlic, minced

1/4 cup balsamic vinegar

salt and pepper, to taste
*For those who don't always save their bacon fat in the refrigerator (it's seriously worth it!), this should be from about 2 slices.
Method:

In a large sautee pan, heat 2 Tbsp bacon fat over medium high heat, then add 1 lb brussels sprouts, halved, with the cut side down, and let cook until the bottoms are seared and browned, about 2 – 3 minutes.
Add 1 clove garlic, minced and stir, trying to flip as many of the brussels sprouts as possible. Let cook until the garlic is fragrant, about 1 minute.
Pour in 1/4 cup balsamic vinegar, and let simmer, scraping the pan to deglaze any browned bits, until the brussels sprouts have softened slightly and the vinegar has reduced by half, about 2- 3 minutes.
Add salt and pepper, to taste, then remove from heat, and serve warm.
Related Posts: